Is 2022 your breakout year?
Are you ready to take on a new challenge, switch jobs or rebrand yourself?
If you're ready, then let's make sure your LinkedIn profile is ready, too.
No other job hunting tool has the reach that LinkedIn has to attract interest.
Just look at the statistics:
87% of Recruiters regularly use LinkedIn
122 million people received an interview through LinkedIn
35.5 million people were hired by a LinkedIn connection.
And with almost 740 million members, the last thing you want is your profile looking EXACTLY the same as 100's of other qualified candidates.
Ready to Start?
Let's start with the good news and the bad news about updating your profile.
The BAD news is:
Chances are your profile looks just like everyone else's.
True. Some of the words are a little different. You described yourself as a "seasoned executive" and another guy called himself, "experienced."
That isn't enough to stand out.

The GOOD news is:
If you make this ONE change, your profile will instantly pop compared to everyone else:
Don't lead with your experience.
Instead, change the order and start with what problems you solve or solutions you offer.
I know that sounds too simple, but consider this:
Attention spans are plummeting.
Readers will skim just the first line or two before deciding to read more. If you don't hook them instantly, they won't bother reading the rest.
Plus... if you look closely on LinkedIn, your "About" and "Experience" sections are shortened.
Yep. All those hours you spent painstakingly wordsmithing every detail won't matter if no one clicks on two little words: "...see more".


So if you want the reader to click on those 2 magic words, you can either lead with what you can do for them:
I help businesses find the fastest, smartest path to profitable revenue growth. I improve the big picture by identifying system opportunities and making structural changes that drive top and bottom line growth.
Or you can say what everyone else says:
Highly accomplished, results-oriented leader with 15 years of business and organizational experience across Marketing, Sales, Supply Chain, IT and Corporate Finance.
Take a look at this before and after
I thought this was a good summary. Simple. Clear. But a bit generic in the beginning.
Then I switched the order.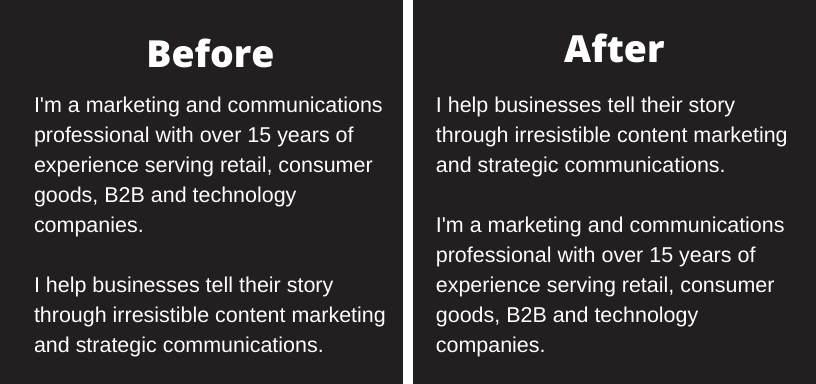 See the difference?
Now the profile starts by showcasing what value the reader can expect, followed by a list of impressive experience.
That's how you capture attention.


Ready to switch it up? Here's how
Think of the profile order as a series of 2 questions from your reader.
Question 1:
What do you do and how can you help me?
I help businesses tell their story through irresistible content marketing and communications.
Question 2:
Ok… that's interesting. Why should I believe you?
I'm a marketing and communications professional with over 15 years of experience serving retail, consumer goods, B2B and technology companies.
Your profile is one of many in a sea of profiles and resumes
EVERYONE is award winning, best selling, experienced, and seasoned.
You're not going to stand out by describing yourself a little bit differently.
You will stand out by explaining what value you can add.
Notice the difference?

So do I.
---
Looking for more ways to connect? Check out these Evoke posts.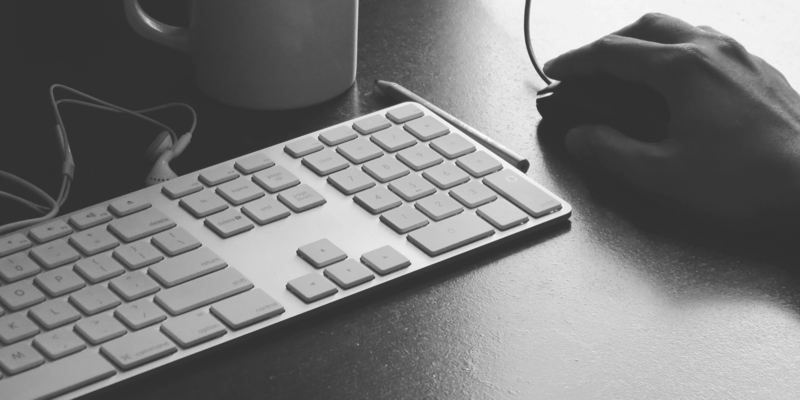 10 Bright Ideas to Update your LinkedIn Profile [INFOGRAPHIC]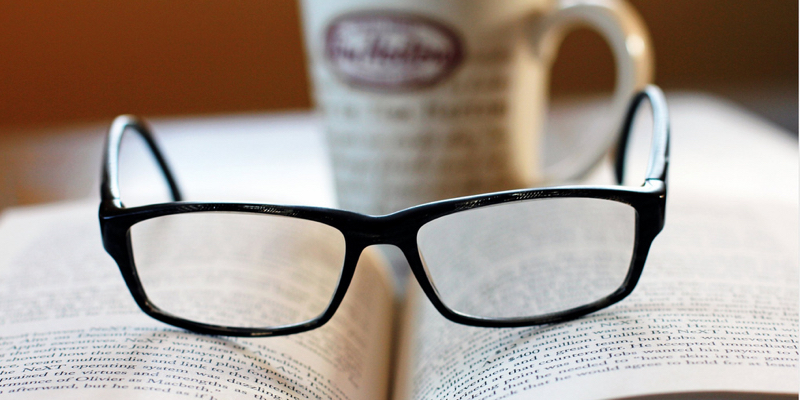 4 Things We Think Make Us Look Smart, but Don't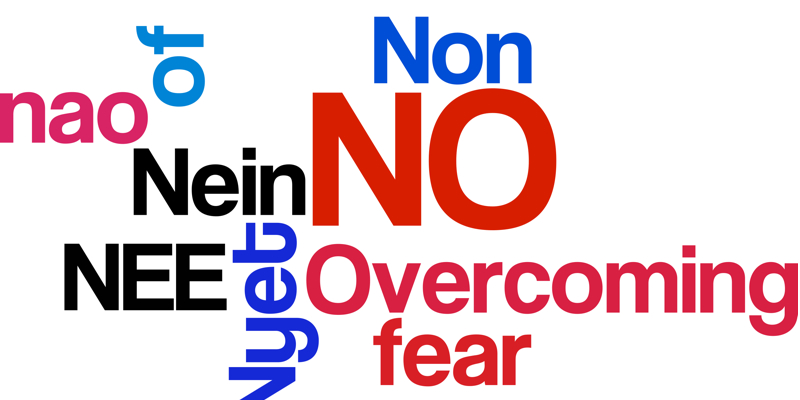 How to Overcome Your Fear of "NO"
---
Check out the Unlock Your Potential page for more insight and inspiration.
Follow Evoke.pro on LinkedIn or sign up for Evoke's newsletter
I'm Rebecca Okamoto and I'm a career and communications coach. I help my clients turn their communications into a competitive advantage.
Do you have something to say, but struggle to say it? Contact me at rebecca@20words.com to get more information or visit me at 20words.com.
Photo / Rebecca Okamoto